Civi Lands commitment to Quality, Health, Safety and Environment starts with the senior leaders of the our company and it is the responsibility of everyone in the company including newest recruit. we believe this commitment enhanced its reputation and image, enabling to maintain and expand its reputable customer base.
Civi Land recognizes that a major factor in its business success is the emphasis it has placed on Quality, Health, Safety, and Environment (QHSE) as key elements of all of its activities. Civi Land provides its clients with services which are of the highest professional and technical standards and which comply with client specific QHSE requirements and local statutory requirements. Doing the job right and doing it safely is our primary business objective. Everyone within the Our Company, as well as contractors, has an essential part to play in ensuring that Civi Land continues to improve all aspects of its operational.& constructional .
QHSE Policy
Civi Land believes that NO JOB or TASK IS MORE IMPORTANT THAN WORKERS' HEALTH AND SAFETY. If a job represents a potential safety, health or environmental threat, every effort will be made to plan a safe way to do the job. Shortcuts in safe procedures by workers will not be tolerated. If a worker observes any job, which may pose a potential threat to their health or safety, he or she must inform Civi Land management and management will take adequate precautions, This is done by applying the following procedure
Complies fully with all applicable legislation, regulation and relevant industry standards.
Manages occupational health, safety, quality, environment and. Sustainable development matters as an integral part of its business Activities.
Strivers towards an incident free, secure, safe and. Healthy workplace.
Promotes the health and safety of its employees, contractors, visitors and the local community, and considers the environmental impact in all phases of Civi Land business including engineering design, construction, testing, commissioning, operations, maintenance and decommissioning of plants facilities and equipment.
Promotes HSE culture within Civi land at national level.
Commits fully to and supports the continuous improvement process. Including continuously seeking ways to turn HSE challenges into opportunities.
Enhances Civi land corporate social responsibility.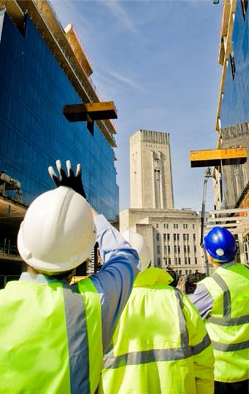 QHSE Plan & Strategic Objvectives
The HSE Plan of the Civi Land stating how the HSE risks in the performance of the projects will be managed in order to meet HSE requirements for protecting people, assets and the environment. It should cover any project phases from pre-mobilization, through project execution, to demobilization. It demonstrates the Civi Land understanding of the requirements stated in the Contract HSE specification and should state the HSE policy, procedures, and standards to be adopted in carrying-out any project.
The purpose of this plan is to describe safety standards and practices that will be implemented to minimise health and safety concerns during the execution of any project with the goal of eliminating fatalities, injuries, asset and environmental damage. Civi Land will ensure this contract is injury–free by doing the following:
Assessing all risks and putting appropriate controls in place.
Using competent/qualified personnel.
Using standard and fit-for purpose. Equipment & tools.
Using standard and fit-for purpose. Equipment & tools.
Job hazard analysis for every task
Making regular job site safety inspections.
Providing & enforcing the use of appropriate PPE.
Providing risk based safety orientation/ training.
Enforcing safety rules and using appropriate discipline
Using a qualified Safety Officer